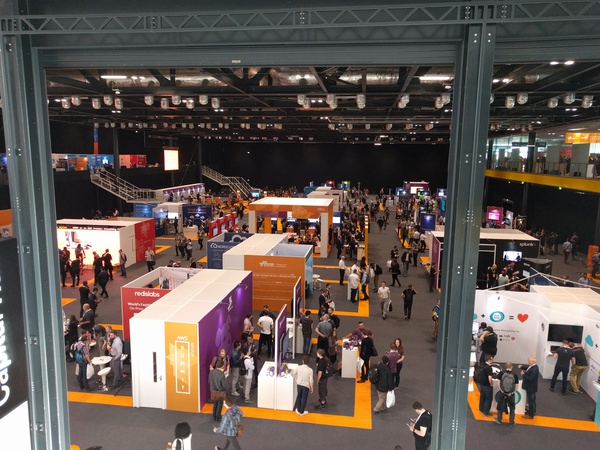 I caught up with fellow Infinity Works people, some of my clients, people from the Leeds DevOps scene, and also bumped into Raphael who did some AWS training for us over at the AWS summit last week.
I love cycling, so I took a Boris Bike from Central London to the docking station nearest to ExCel (at the East India DLR station) and got my first puncture on a Boris Bike. Those things are total tanks, I'm surprised it's even possible. Sadly, even if you return a bust bike and report it as not working, you still have to wait 5 minutes. I can't believe how much clicking "Next" there is on that touchscreen interface either. Still, beats walking.
The keynote had a terribly cheesy DJ-ing introduction and was only marginally interesting to me, bit of a chance to plug stuff, but this "truism" from 1975 stood out. As with all "laws", approach with caution, nothing is 100%. They should help you to rethink about a position you've taken, not be a reflex reaction.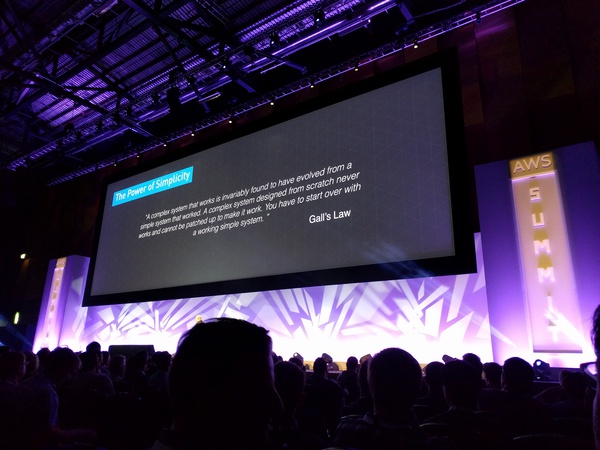 My favourite talk was from James Hall (https://twitter.com/MrRio) from Parallax on how they've been using AWS Lambda to simplify their development stack, and http://docs.serverless.com/ to save time on stack setup. It wasn't only technically interesting, but really entertaining, definitely check out his talks in future if you get chance.
The deep dive on AWS Lambda covered the use of the API Gateway to run APIs with AWS Lambda. I haven't tried it yet, but I definitely plan to give it a blast if I find a suitable use case. You can run Go on it. :)
It's great that it's a free event - next year, I'm going to suggest attending to a wider group from the organisations I consult for, especially engineers who don't actively use AWS, haven't looked at containers or are just starting to look at configuration management, since there were lots of introductory-level talks.